Faster production times, frequent low-risk sprints and responsive flexibility
To provide you with a well-crafted site or app at the best value, IT House uses agile development methods to manage our projects and build websites and applications from the ground up. Taking full advantage of these cutting-edge practices, we employ a blend of two agile methodologies: Scrum and eXtreme Programming.
Why Agile Development?
The most important reason why we use Agile development we believe in agile is because it allows us to work closely with you, ensuring the project is always aligned to your business goals.
When you're happy, we're happy!
Traditional software development typically features long "sprints"—periods when the programming is still in progress and unstable. This process is rather rigid, and making adjustments mid-sprint can be extremely time-consuming and inefficient. It also means that clients don't get to check in on the progress until the work is done.
Agile development is fundamentally different—it's based around a series rapid of rapid sprints that provide the client several opportunities to test the product, give feedback, and recommend changes.
The end result: a fine-tuned final product that achieves your goals and works exactly as you imagined.
Agile development provides several benefits for your project:
Faster production times
Frequent low-risk sprints
Responsive flexibility
Aligned to business goals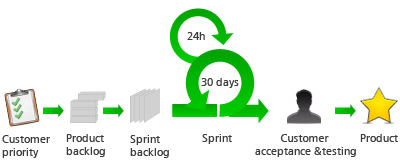 "Responsive, flexible and creative. IT House fully understood our wishes and needs even better than we did. It was pleasure to work and communicate with them."
- Inese Vetra, Head of Marketing Department, Pica Lulū
"IT House can be characterized by a words "getting the right outcome, achieving value for money". Feel that here are working professionals, they always would suggest what would be effective and a good solution. Appreciate that I am able to work with them on long term projects."
- Anda Valtere CEO, Doctus.lv Medicine journal
"Team of IT House very quickly responded to our needs and implemented them in the portal. Process of development run very smoothly."
- Max Valentin, CEO, Crowdculture.se