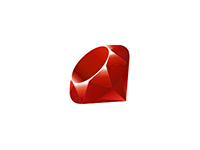 Ruby
Ruby is a programming language that was created more than 20 years ago by Yukihiro Matsumoto a.k.a. "Matz".
Ruby is known among programmers for a terse, uncluttered syntax. By most measures of programming language popularity, Ruby ranks among the top ten. Like Java or the C language, Ruby is a general-purpose programming language, though it is best known for its use in web programming.
Ruby's key advantage is RubyGems, the package manager that makes it easy to create and share software libraries (gems) that extend Ruby and help you build complex websites.